Senior Swim Night: Girls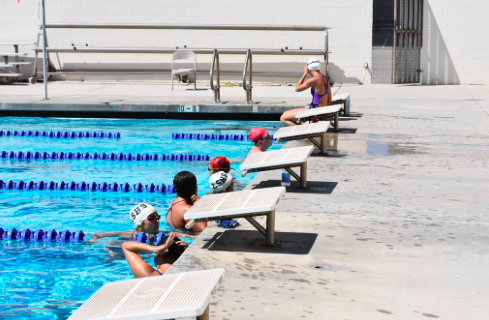 The girl's swim night was on May 2nd, for the CIF Southern Region meet. It resulted in a victory to end the year off for the girls. The coach for this year was Matthew Bright, and the team roster consisted of around 25 girls. The CIF Southern Region meet was the last game of the season, so the team had to give it their all here. 
"We were sort of nervous at first, and sad since this was the last time we'd be doing anything with each other in swim, but we tried our hardest. We came a long way from where we were in the beginning of the year, last year." said junior Briana Perez.
The girls had taken away experiences with their teammates that they wouldn't forget as well. Sophomore Evelyn Estrada speaks on her experience with the team.
"It was kinda depressing to see some of the girls we got to know this year leaving, and we couldn't have done it without everyone because we all have to give it 100% or else we don't have much." said sophomore Evelyn Estrada. 
The team worked all year to better their scores, and get stronger, and faster in order to take time off in their events. The event also served as the last high school swim meet that some of the girls would partake in, given that they were seniors. 
"It made me feel sad, but it was really cool because we got to see one of my teams make it to CIF and a bunch of other girls. My favorite memory would probably have to be the Novi meet though because we won that meet, everyone did really well, all of our times improved too." said senior Tabitha Trees. 
And with the seniors leaving, Tabitha Trees and Joscelyn Ramirez share a closing remark for their underclassmen who would be taking their place next year. 
"Always work hard, try not to skip practice, because school comes first. Keep a good balance between practice and school, so that you can succeed in both and have both rewarding experiences," said senior Tabitha Trees.
Senior Joscelyn Ramirez also shares her experience and final remarks to her teammates in swim, as her high school swim career, is ending. 
"My thoughts on the meet were excitement. My team and I never thought we would make CIF for swim, but we were determined in dropping time to make automatic for CIF. Swim has given me the life lesson of never giving up. I have realized that throughout my four years, I have had failures when trying to be number one in my events. But it showed me what I needed to improve on to become better which ultimately allowed me to have the perspective that success never comes without failure," Ramirez said. She continues, "My advice to the underclassmen would be to never give up. Set a goal for yourself that you want to achieve and never stop until you have succeeded at it."